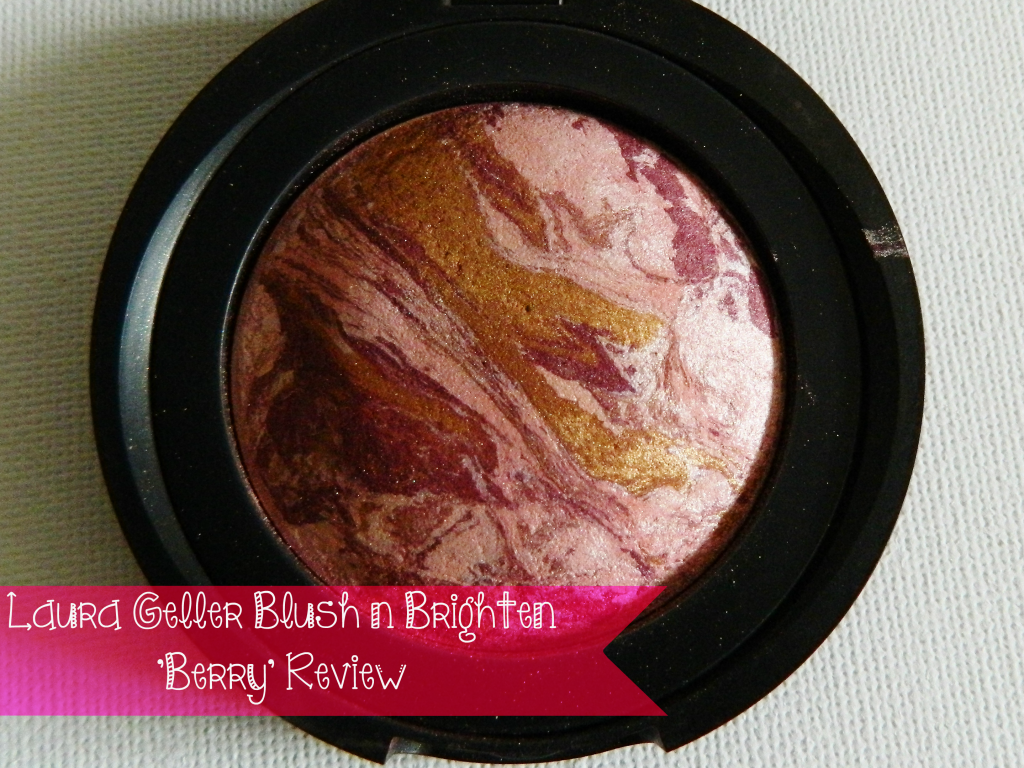 Today I am going to talk about one of the most beautiful blushes I've ever seen…Laura Geller's whole Blush'n'Brighten range is absolutely stunning and yes whilst this post IS photo heavy, I have no regrets because it would simply be rude to not share these beauties (eye candy galore)
There is just something so gorgeous about marble products isn't there?! Now although I don't own any MAC mineralise skin finishes yet, the packaging and general beauty of these very much reminded me of them. However when swatched together the LG blush had a lot more pigmentation than the MSF suggesting these are more suited for use as BLUSHERS AND HIGHLIGHTERS rather than just
skinfinishes.
Sadly I do not own this blush (get your violins out, it's really a tragic fact). It was lent to me by my lovely auntie, however my mum also owns one of two of these blushers so I have the chance to play with them now and again. For the basic details this pan holds 5g (although full sized are 9g with a brush I believe) The lid of the blush is half a mirror, half clear plastic. She hit two birds with one stone – you can easily see the shade but you also have a handy mirror should you need it when traveling! I believe there are two ranges of these blushers 'sugar' which are the shimmery (NOT glittery) ones and 'non-sugar' the matte kind.
In terms of availability I know my auntie purchased it from QVC and I think the range changes there all the time so it's worth keeping an eye on that site, I also know my friend's mum buys a lot of her range from e-bay but I'm not sure if I have the guts to buy makeup myself from there so sorry to be of little help D: (I do know her range is widely available in the US though so another brand to add to my USA wishlist!)
In terms of application, the product picks up on the brush very easily and applies
beautifully
. When first opening this I expected it to be VERY shimmery on the skin, but much to my delight it is a lot more subtle than expected. The shade berry is
perfect for autumn!
but thats a total given right?! The gorgeous traces of gold amongst the pinks and plums blend together to create a classy, sophisticated shade which just screams
cosy jumpers and leather boots.
I can never align my swatches right urgh ._. So on the left we have the swatch without flash, it's probably the more accurate view of this blusher, as you can see a slight berry colour which would no doubt compliment any skin tone and also not be too harsh for the paler tones (as some plum shades can be). On the right is the shade with flash and it looks equally as stunning, needless to say highlighting is unnecessary with this as the subtle gold tone does the job just fine. I think it's such a gorgeous shade mainly because, in the colder months our skin lack that warmth and the skin can sometimes look dull/dry – this is the perfect product to bring some life back into it.
In short I think for the price (around £18 for a full sized product) these are of course pricier than drugstore but they are well worth it. The colour is long lasting and because they are baked blushes its a mixture of colours rather than one flat colour – making it look more special (and sometimes more natural).
I'll be sure to look out for some holiday giftsets to see if I can get one or two of these in my collection! What are your favourite baked products?